The Right Tool for the Right Job
My dad used to say to me all the time, "
Find the right tool for the right job and your work will go more quickly
." I believe this wholeheartedly. As a child, I watched my mom hand chop meats to make fresh ground pork and ground beef for wonton fillings and fried lumpia/spring rolls. Now that my dad has the job of making his special wonton fillings for our families restaurants', he uses a food processor. The wonderfully light and silky texture of my dad's wonton has not changed but his method's have. (Probably due to the fact, he has to feed a crowd.)
Today as I was cleaning out my kitchen drawers, (what else is there to do when you are homebound because of snow), I looked at my kitchen tool collection.
Normally I do not collect much of anything, I keep things I like, things I use, but in the kitchen it's a completely different story. I
LOVE
to have all types of kitchen tools. For example, I do not eat crab or lobster often but when I do, I like to have crab crackers ready and meat picks to get into those tight crevices.
Here are a few photos of my most cherished tools: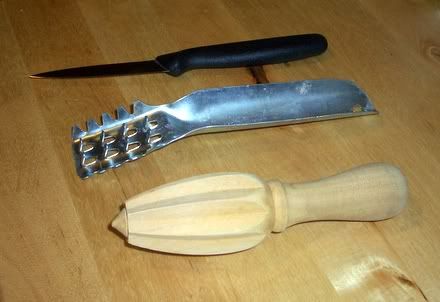 Back to front: 1) A great paring knife, for all those little jobs you don't need the big guys for. Paring an apple, slicing off a piece of cheese for a snack or poking a potato before putting it in the oven. 2) Old fashioned fish scaler that can be bought at Asian stores. This little tool can scale fish in minutes! 3) A lemon/lime reamer is essential when you need citrus juices for marinades, sauces and dressings.



Back to front: 1) I never grew up with a garlic press but I have to one now. It minces the garlic very finely and evenly, no chunks. 2) A silicon pastry brush-No more loose hairs, no more stinky brushes that are hard to wash. I just pop this in the dishwasher. 3) Fish tweezers are fantastic for removing pin bones from fish fillets and make eating fish much more enjoyable, in my humble opinion.

If I had to recommend ten tools to someone just setting up their kitchen I would suggest they start with the following:
1. A knife you can rely on and something to sharpen it with.
2. A great vegetable peeler: for peeling all vegetables and tubers, for making zucchini ribbons, Parmigiano curls, chocolate curls and much more.
3. A good set of wooden/stainless spoons for stirring pasta, polenta, soups, sauces and just about everything.
4. All the stuff for measuring: measuring spoons, cups (for both liquids and solids), a scale, a thermometer for meats and a candy thermometer.
5. A set of silicon spatulas, I love mine so much. They are great because they can stand up to heat without melting, so great for melting chocolate, making sauces. There is nothing worse than stirring a dish with a plastic spatula and then finding out the end melted.
6. A balloon whisk, just one of life's essentials.
7. A super long pair of wooden chopsticks for deep frying, stir frying and picking up "stuff". This is the Chinese in me talking, mine are about two and a half feet long.
8. A strong and sturdy cutting board, the debate goes on whether wood or plastic is better. I've solved that problem, I have both. The plastic one I use for meats and fish and can bleach if I have to. Usually I put it in the dishwasher to sanitize.
9. My wok, the most versatile tool in my entire kitchen. I can make ragu, soups, stews, braise meats, make a omelet, fry rice, deep fry anything, cook rice, the list goes on.
10. Last but not least…. (I have to go to the kitchen to make sure I did not forget anything.) Aha! I almost forgot about my pepper grinder. If someone told me I could not have fresh ground pepper, I think I would just cry.
All contents copyright 2004-2006.
All rights reserved.