Torino Gets Ready for the Olympics
Ever since I moved to Torino about 11 months ago, I knew about the upcoming 2006 Winter Olympics. As a matter a fact, two months ago I went to a photo exhibit at the Gallery of Modern Art in Torino that featured all the changes that have occurred all over the city due to the approaching games.
There are new billboard ad's up with mostly watches that feature top skiers, skaters and other miscellaneous athletes. Silly circles are being installed all over the city with flowerbeds in the middle. red flags are popping up all over the city "Passion lives here" is the motto which makes me chuckle since Torino's reputation isn't passion at all. A handy new Olympic priority lane has been painted into the roads of Torino, its yellow with a blue 5-Olympic rings symbol. I think its fine for the three weeks that diplomats, journalists, athletes and possible VIP's from all over the world converge on Piemonte.
I am however still worried about the fact the main train station and the little train stations are a mess. The work to improve many areas of the city is far from over. Cranes and forklifts block rush hour traffic, while traffic cones dot every roadway. I hope they get their butts into gear and clean up the mess because in 2 weeks all hell is going to break loose in this city.
Read more about the Olympics in Torino
here
.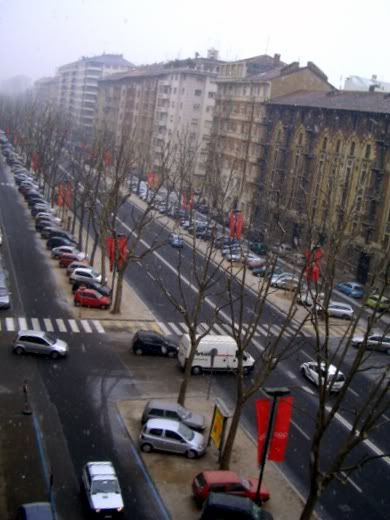 It snowed today for the 2nd time this winter.

All contents copyright 2004-2006.
All rights reserved.