Two Words="Cat Arrived"
After three days at the kennel at the Atlanta airport, the cat arrived today via special courier. I was glad to see he was sitting in the front seat with the driver instead of being placed in the back with the other piece of luggage
Delta Airlines
misplaced.
In his kennel, my sister placed a cat bed, in which someone added shredded paper. Also under the cat bed were several layers of newspaper. When I took Bak-Gai out of the kennel, the shredded paper was soaked and stiff. The cat bed was soaked through and the layers of newspaper were wet and smelly. At this point I burst out crying as I saw his back legs were stained with newsprint from sitting on urine-soaked-paper for who knows how many hours. His usually brilliantly white coat was a bit dingy in places and his head is listing in the photo because he also has a case of ear mites. After he settles down, he'll need a bath.
As he walked out of the kennel, he recognized Zavier right away even after 11 months. Zavier licked his ears and ran to get his ball so they could play. The cat however looked stressed as he roamed from room to room, under the bed and after checking the entire apartment out, he made a beeline for the water dish. After a good drink, he was hungry, which I was glad to see. This afternoon I am taking him to the vet for some fluids in case he is dehydrated, then we will have all weekend to get re-acquainted.
He has lost a total of about 2-3 pounds over the past 11 months and I place to give him tons of TLC so he can get strong again. I even bought his favorite meat today, beef liver and kidneys. I cannot thank my sister enough for taking care of him this past year. She tried and tried to make him comfortable but he just never fully adjusted. Now that he is here with me, I feel like a giant weight has been lifted off my shoulders and those of my sister.
Thank You Kentra
,
I will never forget your help this past year and I will remember your support forever!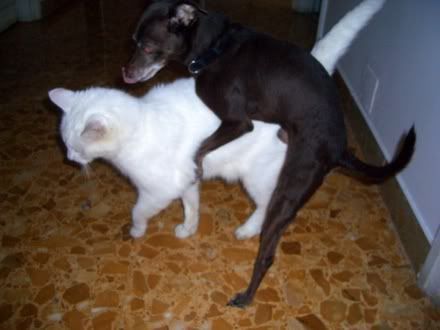 It's obvious Zavier recognized the cat.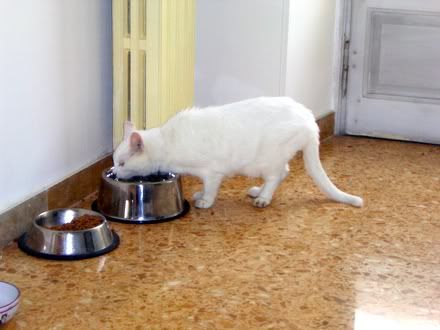 Poor Bak-Gai looked happy to see clean, fresh water.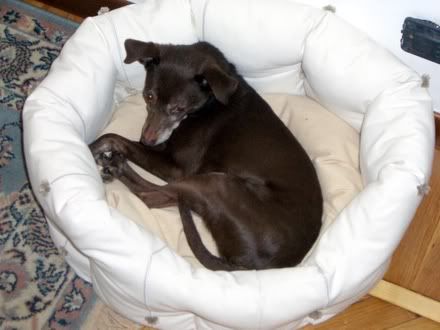 Zavier tries out the cat's new bed.


I have never been so happy to see a cat going to the bathroom. I stole this line from Cyndi but it echos how I felt.

All contents copyright 2004-2006.
All rights reserved.