Weekend Dog Blogging #5

We're off to Rome for the w-e so this post is a day or two early.

Can you tell we don't have kids? YET!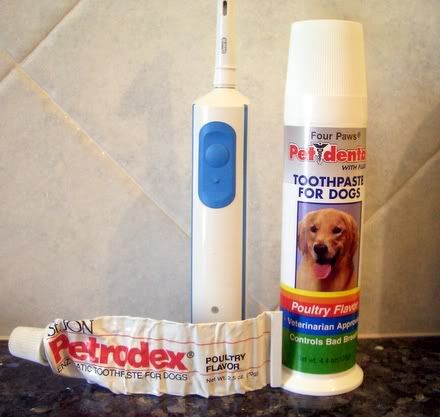 We've gone and done it this time...We knew we created a food snob but only this week did we find out to what extent. When Deme went back to Seattle, I asked him to pick up some doggie toothpaste. As you can see our old tube is running really low. He bought a new brand that Zavier won't go near. Our old toothpaste was chicken flavored, he love it. This new one claims to be chicken flavored but instead of being a creamy, beige chicken-skin color, it is white. Somehow the dog figured out it was not the "real" thing.




When I ask him to come over to have his teeth brushed, he is more than happy to oblige me. The disclaimer, IF and only IF I have the gourmet chicken flavored toothpaste. See how he licks it off the toothbrush before I even turn it on.




It has gotten chilly, clouds and mist have decended onto Torino. We have to keep warm now don't we?