The Games Come to a Close
Some friends arrived in town yesterday and the first thing we did was go to a bar for coffee and Torino's famous chocolate drinks, like marrochino and bicerin. We then headed to dinner and saved the majority of the site seeing for Saturday.
Here, the weekend Today Show interviews James Suckling, from Wine Spectator about the famous wines of Piemonte. Spectators gasped and booed when at the end of the show, assistants poured out the unfinished wine in the glasses.
They tasted Dolcetto, Barolo, Barbera, and Barbaresco. The crowd really went wild when they found out one of the wines retailed for $500.00 a bottle!
After the wine tasting, we saw an interview with the Hughes sisters, Emily Hughes, a junior in highschool replaced Michelle Kwan, who dropped out with a groin injury. Sarah Hughes, won gold at the Salt Lake Games in 2002.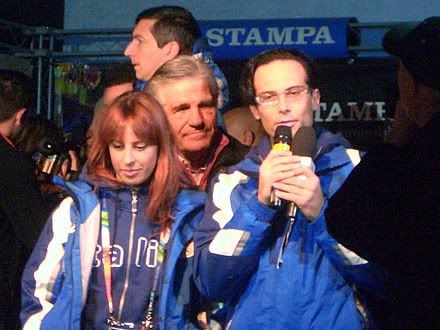 Here are Barbara Fusar-Poli and her partner, Maurizio Margaglio. They won Italy's first ever Olympic figure skating medal -- a bronze -- at the Salt Lake Games. After three years off, they came out of retirement to compete at their home Games in Italy and won the gold in Ice Dancing in the Compulsory Dance category.
Here is local hero and hottie Enrico Fabris. He won gold 1500m men's speed skating event.
Not a great photo, as I was being pushed and shoved quite violently.
No this man is not selling pins, he is looking to add to his collection. Men, women, young and old were seen displaying their Olympic pin collections all over the center of Torino. They are mainly looking to trade pins with other collectors. This man came all the way from Calgary, to widen his collection.
Just look at his collection.
These are the gold, silver and bronze medals being given out these Games.
The Olympic Torch will be extinguished tomorrow at the closing ceremonies, scheduled to begin at 20:00 CET (19:00 UTC) at the Stadio Olimpico, just blocks from my house. At the end of the ceremony, the president of the International Olympic Committee will announce: "I declare the Games of the ... Olympiad closed and, in accordance with tradition, I call upon the youth of the world to assemble four years from now at ... to celebrate with us there the Games of the ... Olympiad". Not to fear, in two years the Olympic Summer Games will be held on August 24, 2008 in Beijing.
Check out the ticket prices here.
All contents copyright 2004-2006.
All rights reserved.