Torino During The Games Part 2
Cyndi and her mom were loads of fun. We filled our days with seeing the sites and documenting Torino during The Games. Here are a few observations:

Security was tight. As we entered on of the Villages, the Sponser Village, we were basically frisked. Cell phones and digital cameras had to be proven operational. I was asked to turn my camera on and off. There were police cars/vans/trucks all over the city, some filled with riot gear. Luckily we did not see any disturbances. On another note: most policemen stood around smoking and chatting with their neighbors which was nice to see.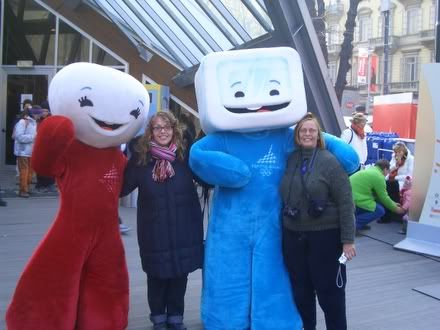 Neve and Glitz are the official mascots of these Games. Neve means snow in Italian and Glitz is just a name. Everybody loves them!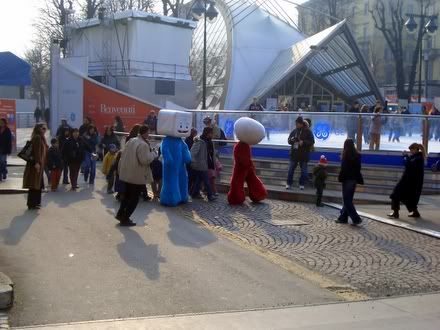 Here Neve and Glitz are being followed by a crowd of children who were just drying to get their photo taken with the tall, fluffy, characters. Does the Pied Piper come into mind?



Piazza Solferino was filled to the brim with tourists from all over. Detroit, Texas, Minneapolis, Indiana (oh yeah, that was Cyndi and her mom), Russia, etc... There were even official "pin" vendors that sold Olympic pins. Apparently they are a hot item to collect and place on hats, scarves and jackets.



This is Piazza Castello, the castle in the middle of Torino. A stadium has been put up in front of the castle and this is where the Medals Plaza is. There are concerts at night and a firework show after the medals are given out. One of the days it was quite foggy and cold but the next day was sunny and still cold.



One afternoon, as we strolled downtown we heard some live music coming from the stadium. Duran Duran were practicing some of their new songs but when "Rio" started playing, I could not help but sing along. I remember them from 8th grade.
More security but these guys were cute.
With all the tourists in town the cleaning crew has been at work full time. The sidewalks of Torino are spotless. Not many cigarette butts, dog poop, or litter of any kind gets a chance to accumulate, it is swept away as soon as it is dropped. This man told me he sweeps up Via Po, a grand street, 4-5 times a day.
At the end of Piazza Vittorio, on the way to the Gran Madre (a church), is the giant Olympic superstore. We looked at ear warmers, jackets, t-shirts, sweatshirts, mugs, you could even buy a perfume called "Victory" and it actually smelled good.
The strangest item for sale, in my opinion. On Olympic head band/ear warmer complete with blonde or black braids.
In the giant Mall just a few minutes outside of Torino, there was a giant sand sculpture. I was told this sculpture took a Japanese firm 20 days to complete. The details are simply breathtaking.
Check out the details, wow!
In many piazzas, special Christmas light displays were installed for the holiday season. With the Olympics coming to Torino, the displays were not taken down. They were left up to dress up the city a bit more and this one is my favorite, in the Piazza della Citta.