Weekend Wrap-Up
We headed off to Rome this weekend so Demetrio could run the Roma to Ostia half marathon, that's 13 miles and 21 kilometers. Winter in Torino has been cold and with two business trips to Seattle he has not had much time to train. Still he came in in 2 hours and 6 minutes which is almost exactly half of this Marathon time in November 2005 of 4 hours and 35 minutes. Not bad for a an almost 43 year old smoker. (I wish he would stop the smoking though, he insists he is waiting for a Phillip Morris sponsorship.) A big victory for me too: I had to drive him to the starting line and then find my way back home alone. Therefore, I can say, I can drive in ROME! Another one on the belt notch for me.

A 7:30 a.m. pre-run photo.



Here he is about 100 yards from the finish line.



The dog got some exercise at the beach in Fregene. Paw on stick = my stick, stay away.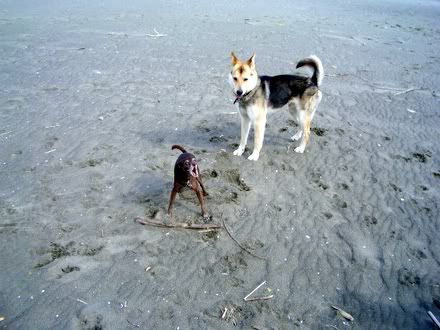 He lets them know when they get too close to "his" stick. "Though he be small, he is fierce."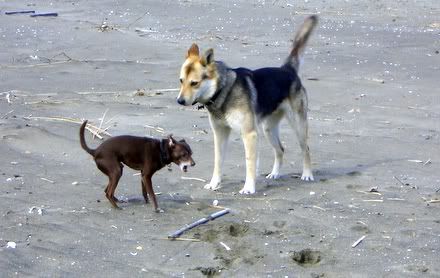 He had a great time with this dog, they played "keep away" for about an hour. Funny thing was the larger dog could not get enough of Zavier. Maybe he was thinking "I've never seen a barking river rat before."

All contents copyright 2004-2006.
All rights reserved
.