The "Birthday-Claus" Arrived at my House
My birthday is next week and look at all the goodies I received.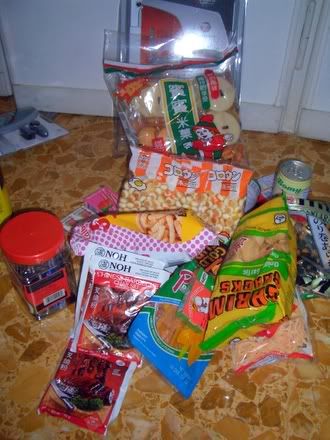 My sisters Kentra and Sara pooled resources to get me two Asian goodie boxes filled with cookies, rice crackers, curry mix, drinks, candy, gum, dried squid, and more. So much for my diet.

I was so glad to see this. I need it to make my Chinese Roast Pork. I don't follow the recipe on the back but the package is pretty good on its own.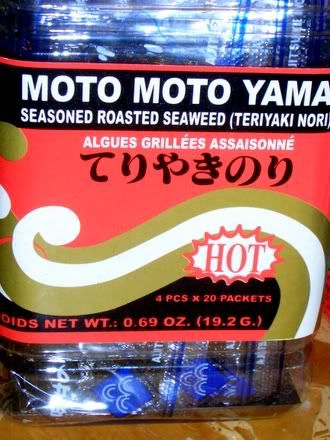 I can find nori in Torino but not hot seasoned nori, yummy! This is how I get my iodine fix.

Thank you to the Haskin Family: John, Megumi, Milou and Milay (the monkey). They filled a box with Seattle goodies. A slug lollipop, Japanese noodles, an Asian T-shirt, snacks, marinade, a little Zen kit and special Seattle salmon dog and cat treats. I love them all! You guys will be getting a box from me the next time Deme goes to Seattle.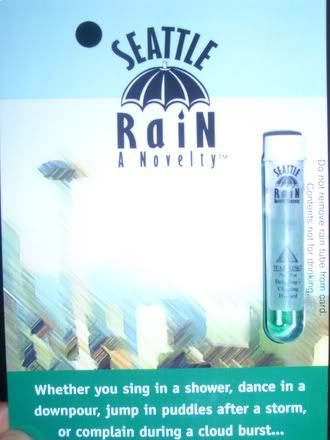 In case I missed the rain from Seattle, they even got me a little reminder.

Demetrio had to buy another duffel bag to bring all this stuff home.
I needed self-laminating sheets (for my lessons) and rolodex refill cards from Office Depot, stuff from the drug store, shoes, and of course stuff from Amazon.com.
Items of interest:
1. TUMS with calcium and fruit flavored-I love the taste and they are 1/4 the price of the ones in Italy which taste like chalk.
2. Glide Floss: this is the greatest floss ever
3. Rain-Ex-it does not exist in Italy
4. Armor All-also does not exist in Italy

Why did I need this brand of hair dye? Because it's gentle and made with herbs of course.
Why did I need this brand of deodorant? Because it works better than any brand I have tried and in Italy they do not have a brand that works for me and comes in unscented.
Why do I need motion sickness pills? Because when we drive thorough hills and up into small towns, I get car sick.
And the fake lashes? Because mine are wimpy and fake lashes are fun.

I have been looking for Silpat in Italy for a year and have not found it. The silicon spatula can take the heat, up to 800 F.

I love the shoes in Italy but I bought three pairs on sale off Zappos for the price of one here in Italy (on sale) and boy are they cute.
I also have to mention my friend Laurie G. Thanks so much for the book, A Thousand Days in Tuscany, the follow-up to A Thousand Days in Venice. I wanted this and love the card you sent with it. I hope to see you this summer!
All contents copyright 2004-2006.
All rights reserved.