Some Tuscan Things I've Noticed
Here are a few more photos of "Things I've Noticed..." I could not help snapping away with my camera when I was in Tuscany last week. Many things still shock and amaze me. Here are the latest:

A stuffed cinghiale (wild boar) outside a salumeria or sausage shop in Chianti. Cinghiale sausage and salami is fantastic.



This shop was jam packed with people, everyone wanted a bit of something to take home. We walked away with 2 large salami, aged pecorino cheese, guanciale (like pancetta but from the cheek area) and a large chunks of pancetta.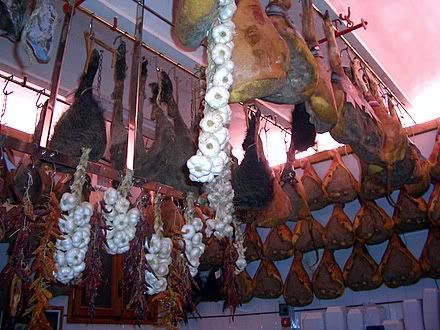 Look at the legs with hair and the little tail attached, I was amazed and the place smelled heavenly.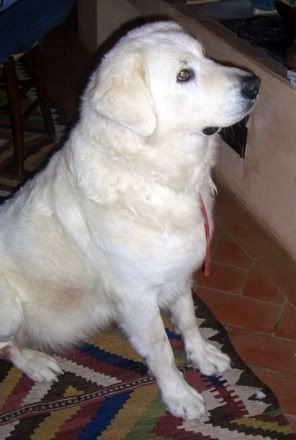 This is Billy, Enzo and Claire's pup. He is 80-90 kilos about 180-200 pounds and only still a pup. He is a maremmano, a kind of shepard and guard dog from Maremma in Toscana. He looks like a Great Pyrenese mountain dog. He's gigantic but if you say his name, then he's a lover. If not, watch out, his bark shakes the thick walls of the villa.



Good Tuscan olive oil is so green you think your putting wheat grass extract on your bread. Yummy!!

All contents copyright © 2004/2005.
All rights reserved.