The Darkroom Part II
After running around last week looking for chemicals, (which I only found 2 out of 3), I improvised and ended up printing a few photos today. See the results below with my comments:


Many of you may recognize this as Piazza San Marco in Venice. The pigeons usually give it away. I was in Venice last spring and shot this very elegant and distinguished man strolling through the square. He looked as if he was in no hurry at all, I love that I caught him in mid-step and with pigeon frozen as it flew out of his path.


This fountain was located in another square somewhere in Savannah, Georgia. I paid a visit to my sister in 1996 or 1997 when she was studying at the Savannah School of Art and Design.
This is my cat Bak-Gai taking a drink from my fish bowl. The fish however does not look bothered. I adore the way his tongue is so gently lapping up the water that it does not make even a ripple.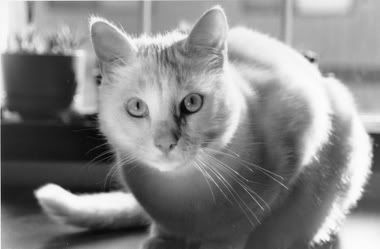 I call this photo "Bak-Gai Spooky". This cat is a lover and in this photo he seems almost sinister. It's amazing how light can play tricks on you.