Val D'Isere Part I
Deme and I were invited by our friends to spend some time with them at their ski cabin in Val D'Ise're, in Savoie, France. Incidentally the Royal family of Italy, "The Savoia Family" also hails from this region. The mountain road we took which closes in winter time was winding and steep but with breathtaking views of the Alps. During the ski season the village is transformed into a literal winter wonderland where skis are a basic mode of transportation.



This female cinghiale also known as a wild boar is a local pet. Her name in French means "Pansy". She was scratching herself on these cars right before I took this photo. Basically she has the run of the town and locals often stop their cars to say a few words to her as they go about their day.


Here young veal graze in their pasture and freely on the mountain side. All four of them happened to be staring at the dog. Cows, horses and donkeys all freely roam the mountainside.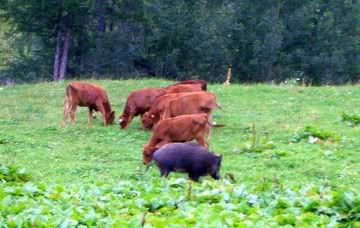 When Pansy is not trotting around town, she guards the veal and keeps them company.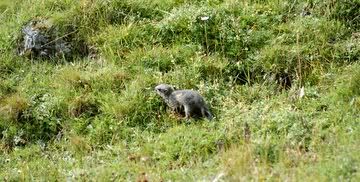 On our hike into a natural park, we saw a marmot. It was my first sighting.




This hike was almost too much for an out of shape housewife from Torino. We started down past the winding path and near town. The total elevation gain was about 1500 feet in 1 1/2 hours. Deme had to encourage me the whole way.
At the end of the hike, there were three small shacks that offered lunch and refreshments. Even with fairly new hiking boots and 2 blisters I made it. I am sitting on the bench a taking a breather. In the background you'll notice a large glacier, many hikers were headed towards that, some 4+ hours away.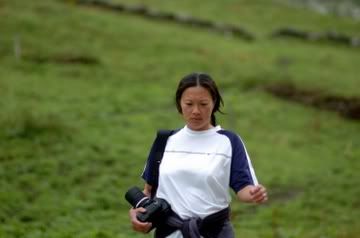 Here I am making my way back down the mountain.