Monforte D'Alba
In the dry, September hills of Langhe; magenta and plum colored grape clusters hang from perfectly manicured vines. They look poised and ready for an autumn harvest. The heart of Barolo country boasts gorgeous hillsides full of local vineyards. Between the espallierd vines, the yellow clay earth cracks and rifts. In Monforte D'Alba reputed to produce the best Barolo; we were invited to have lunch with our friends Enzo and Claire. Read more about Piemonte
here.
The beautiful hills of Langhe. This view is breathtaking and in Langhe, it a common sight.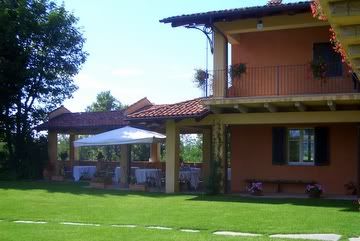 A cool and shady spot or lunch. The weather was perfect and the dog got to sit right under the table as he was fed bits of absolutely everything.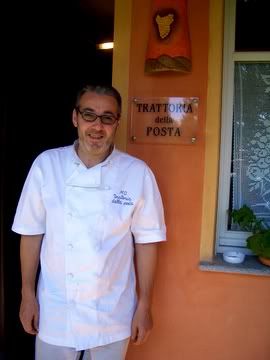 The chef of Trattoria della Posta.
A miniature "Bagna Cauda". This is a typical Piemontese dish. In the yellow pepper "bowl" is a sauce that is made from anchovies, garlic, Barolo and olive oil. Fresh vegetables as well as roasted vegetables are dipped into the sauce and eaten as an appetizer.
A speciality of Piemonte: Tarajin. Tarajin are handmade pasta that contain egg yolks instead of whole eggs. They are a rich yellow color, in many places the pasta is orange as the eggs here in Italy have very rich yolks. Here the sauce is a ragu made from rabbit and porcini mushrooms.
A tiny roasted quail stuffed with summer vegetables and sausage. The little quail was almost too cute to eat.
Our final course, formaggio. The first time a cheese cart was wheeled out to me, I was a bit taken aback. Now I relish the chance to taste cheeses I can't even pronounce. Slowly I am developing favorites.